Maternal Gift Economy: Breaking Through -
Ongoing Salons
Every two weeks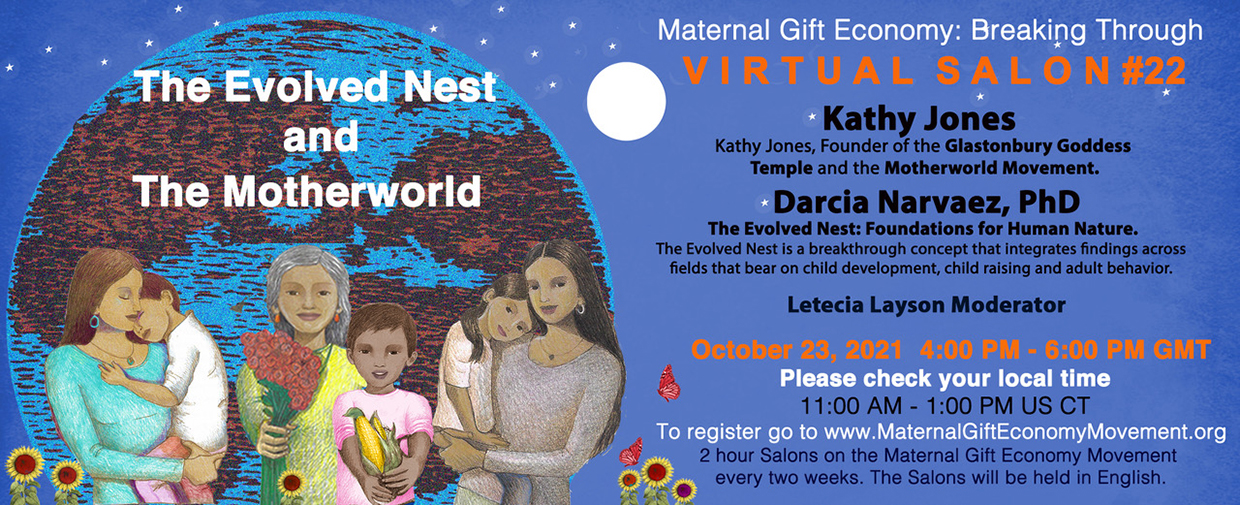 Salon #22 - October 23, 2021
Kathy Jones (Motherworld) and Darcia Narvaez (Evolved Nest)
October 23, 2021
---

Kathy Jones
MotherWorld is the society where Mother Earth, mothers and the values of mothering – love, care and support for each other, and for all Her creatures and nature – are placed in the Centre of our lives and communities, rather than being left out on the periphery.
MotherWorld is the society in which creative and life-affirming values, actions, insights and awareness are honoured and encouraged in women, men, children and all genders.
Kathy Jones is the MotherWorld initiator, a Priestess of Avalon, Priestess of Goddess. She is Priestess Initiator and Founder, Creative Director and Temple Weaver of Glastonbury Goddess Temple, Goddess Hall and Goddess House. She is Founder of Glastonbury Goddess Conference and Motherworld Initiator. She has lived on the Isle of Avalon in Glastonbury for forty years and loves this sacred land of Goddess.
More @ motherworldparty.com and kathyjones.co.uk
---

Darcia Narvaez, PhD
Presentation Title: The Evolved Nest: Foundations for Human Nature
The Evolved Nest is a breakthrough concept that integrates findings across fields that bear on child development, child raising and adult behavior. The Evolved Nest follows our species' wellness-informed pathway, promoting optimal health and wellbeing, cooperation, and receptive and sociomoral intelligences. Societal moves away from providing the Evolved Nest have adopted a trauma-inducing cycle that controbutes to the ill being and dysregulation we see in one another and society.
Darcia Narvaez - Professor Emerita of Psychology, University of Notre Dame, researches moral development and human flourishing from an interdisciplinary perspective, integrating anthropology, neuroscience, clinical, developmental and educational sciences. She grew up living around the world as a bilingual/bicultural Puerto Rican but calls the earth her home. Dr. Narvaez's current research explores how early life experience influences wellbeing and moral character in children and adults. She has numerous publications, including more than 20 books such as Indigenous Sustainable Wisdom: First Nation Know-how for Global Flourishing; Basic Needs, Wellbeing and Morality: Fulfilling Human Potential and Embodied Morality: Protectionism, Engagement and Imagination. A recent book, Neurobiology and the Development of Human Morality: Evolution, Culture and Wisdom won national and international awards. She is president of KindredWorld.org, blogs for Psychology Today ("Moral Landscapes") and hosts the webpage EvolvedNest.org. Also see BreakingTheCycleFilm.org.