Maternal Gift Economy: Breaking Through -
Ongoing Salons
Every two weeks
Matriarchal Societies of the Past and the Rise of Patriarchy
with Dr. Heide Goettner-Abendroth
Saturday, March 4, 2023
Moderated by Letecia Layson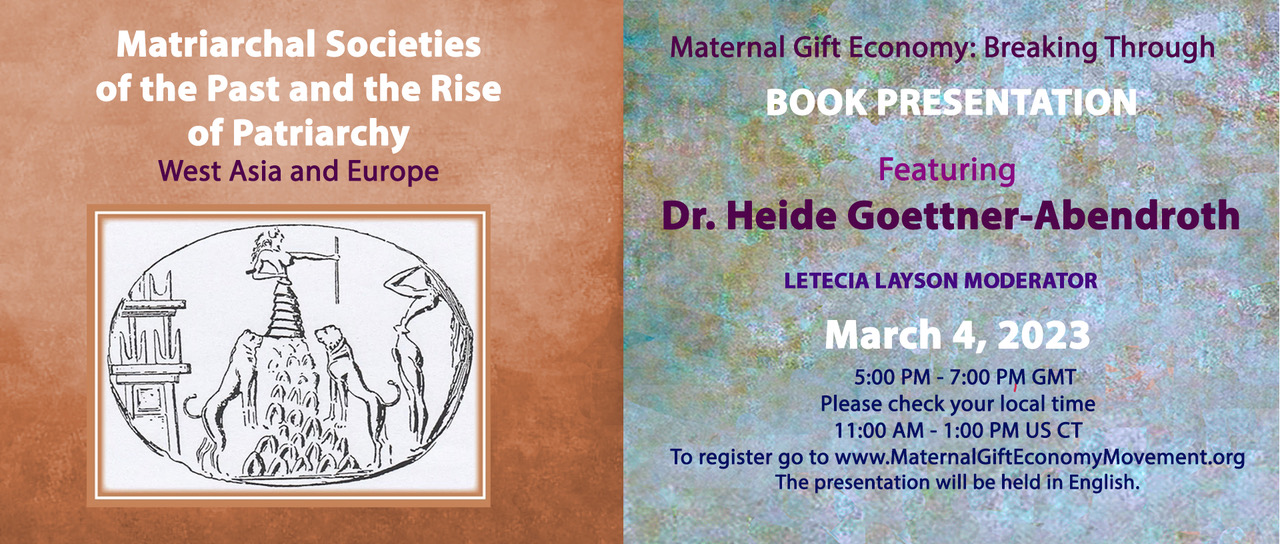 Dr. Heide Goettner-Abendroth is a mother and a grandmother. She earned her Ph.D. in philosophy of science at the University of Munich where she lectured for ten years (1973-1983).
She has published on philosophy of science, and extensively on matriarchal society and culture, and through her lifelong research on matriarchal societies has become a founder of Modern Matriarchal Studies. In her magnum opus: Matriarchal Societies. Studies on Indigenous Cultures across the Globe, (New York 2013, Peter Lang), she defines scientifically this new field of knowledge and provides a world tour of examples of contemporary matriarchal cultures.
She has been visiting professor at the University of Montreal in Canada, and the University of Innsbruck in Austria. She lectured extensively at home and abroad. In 1986, she founded the "International ACADEMY HAGIA for Matriarchal Studies" in Germany, and since then has been its director.
She guided three World Congresses on Matriarchal Studies: 2003 in Luxembourg, 2005 in Texas, U.S., and 2011 in Switzerland. She received several awards and was twice nominated as candidate for the Nobel Peace Prize, in 2005 by a Swiss initiative, 2007 by a finish initiative.
More information @ www.hagia.de and www.goettner-abendroth.de.
Please join the International Feminists for a Gift Economy (IFGE) for A Day of Global Sisterhood for a self-organizing day of discussion and ritual. Sunday, May 7, 2023; 10AM to 4PM (ET) at the Crown Plaza Hotel (Syracuse, NY). We invite you to bring any topics or issues that have come up in the conference and strategize about Where to Go from Here. We will close with a ritual for healing the planet.
This day is a free gift. You will receive food for thought only; you are responsible for your own meals and expenses.
RSVP to maternalgifteconomy@gmail.com for future updates. Walk-ins on the day of the event are welcome.
If you have any questions, please feel free to contact us at maternalgifteconomy@gmail.com
Restoring the Kinship Worldview
A Conversation with Darcia Narvaez and Wahinkpe Topa (Four Arrows)
Saturday, May 28, 2022
Moderated by Letecia Layson
Restoring the Kinship Worldview addresses the potentially impending environmental apocalypse with the idea that Indigenous worldviews are essential to humanity's continuation. That, in order to survive, we must shift toward a more connected relationship with each other and the Earth.
With years of research and experience in Indigenous scholarship and activism, authors Wahinkpe Topa (Four Arrows) and Darcia Narvaez recognize that the original Indigenous understanding of the world, one that guided us for 99% of human history, offers the most pivotal way to restore balance to life on Earth.
In this book, they have put together 28 powerful worldview precepts from various Indigenous leaders. Accompanied by the editors' own analyses, each chapter reflects the wisdom of Indigenous worldviews such as:
Egalitarian rule versus hierarchical governance
A fearless trust in the universe, instead of a fear-based culture
Emphasizing generosity and the greater good instead of pursuing selfish goals and for personal gain
The laws of nature as the highest rules for living
Effectively tying each precept to the crises we face today, Restoring the Kinship Worldview is a salve for our times, a nourishment for our collective, and a holistic orientation that will lead us away from extinction toward an integrated, sustainable future.

Darcia Narvaez
Our very first relationship is with mother. Mother offers the physiological and communicative nurturing that initiates a child's entry into the community (Vaughan 2015). Mother's steadiness and tenderness build the necessary psychosocial neurobiological features that will allow the child to thrive within the community as a growing member. But mother's devotion to her child depends on felt community support and, traditionally, the community participates in the raising of the child. The good enough community sets up the practices and policies that make good enough caregiving possible. They provide the evolved nest and grow a cooperative, prosocial, healthy member of the community.
Darcia Narvaez is Professor Emerita of Psychology at the University of Notre Dame, Fellow of the American Psychological Association and American Educational Research Association. She employs a lifespan, interdisciplinary approach to studying evolved morality, child development and flourishing. She blogs for Psychology Today ("Moral Landscapes") and hosts the webpage EvolvedNest.org.
Wahinkpe Topa (Four Arrows)
Wahinkpe Topa (Four Arrows), aka Don Trent Jacobs, Ph.D., Ed.D., is internationally respected for his research and publications about Indigenous worldviews. Formerly Dean of Education at Oglala Lakota College and tenured Associate Professor of Education at Northern Arizona University, he is currently a professor with Fielding Graduate University. Selected as one of 27 "Visionaries in Education," he is the author of 21 books, half of which are about Indigenous worldview applications for education, sustainability, wellness, and justice.
Restoring the Kinship Worldview
A Conversation with Darcia Narvaez and Wahinkpe Topa (Four Arrows)