Maternal Gift Economy: Breaking Through -
Ongoing Salons
Every two weeks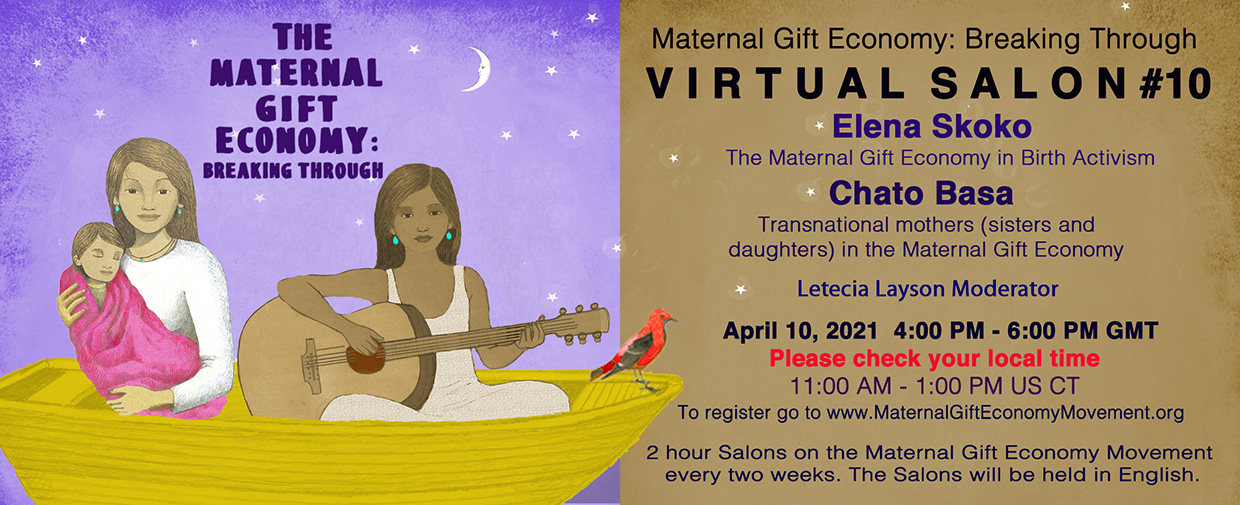 ---
Salon #10 - April 10, 2021
Elena Skoko and Charito Basa

Elena Skoko
Presentation title: Maternal Gift Economy in Birth Activism
Elena Skoko is a mother activist, singer, multidisciplinary artist and independent researcher. Since she gave birth to her daughter she dedicated herself to the topic of motherhood and childbirth; first with her book Memoirs of a Singing Birth, where she describes her experience, later on with Singing Birth Workshops and the advocacy for the respectful maternity care. She promoted the Italian campaign #bastatacere on obstetric violence, lobbied at the Italian parliament, and founded the initiative Obstetric Violence Observatory in Italy with the aim to collect and disseminate data on the abuse and disrespect in childbirth. She is a member of numerous research networks, including the International Feminists for the Gift Economy.
Elena met Genevieve Vaughan and the Maternal Gift Economy theory while she was engaged in childbirth activism in Rome. Since then, the theory helped her make sense of both the work of motherhood as well as activism, discovering their own logic, values and outcomes. The new self-awareness helped her and her colleagues advance their actions in their own right, finding their place among epistemic bubbles of politics, professionalization and the market.
More @
Memoirs of a Singing Birth book
- Download
Presentation Slides
---
---
Charito Basa
Presentation title: Transnational Mothers and Sisters in the Maternal Gift Economy
The global economy has undergone a series of changes that have led to the feminization of migration. Many of us have migrated to other countries to do women's works, leaving our children and families behind.
We, migrant women have multiple maternal roles that contribute to development primarily through our remittances: from consumption and direct support to households, to community development and to broader causes for positive social change; including our voluntary organizing works which are extremely beneficial for ourselves and community, or broader, to further the position of our struggle for equal rights.
Charito Basa is a Filipina migrant activist from the Philippines who went to Rome in November 1986 to work as a domestic helper, but instead found work with Isis International, an organization founded to foster communication and networking among women's movements at the global level. Through her work there she became interested and got deeply involved in issues related to Filipina migrant workers in Italy. She is the moving spirit of the Filipino Women's Council she initiated in May 1991 — an organization of Filipino women migrants in Italy whose aim is to develop them as empowered women, who understand their rights as women, as women of color, as workers and migrants, and will pursue the realization of these rights.
As a resource person for many Italian and international organizations, Charito helped them to manage and coordinate development projects focused on food security, train women and conduct research. In recognition of her advocacy and voluntary contributions to the society, she was conferred the Order of Merit of the Italian Republic, Cavaliere della Repubblica, by ex-Italian President, Carlo Azeglio Ciampi in 2002.
Charito has published and co-authored various books and articles with special focus on the realities of the Filipino women in Italy.
She passionately continues to do voluntary work as inter-cultural mediator, counselor, mentor, trainer, and many more. The Filipino community in Italy, across Europe and the Middle East where she actively collaborates fondly addresses her as the Ate or Tiya/Tita.
- Download
Presentation Slides
---
Salon #9 - March 27, 2021
Frieda Werden and María Suárez Toro

Frieda Werden
Presentation title: Media, abundance, and belonging: The role of gift community media in the communications ecosystem
How community media differs from commercial and public media, how women use it, and why it is worth preserving in a podcast society. Most examples will be drawn from radio.
Frieda Werden is co-founder and series producer of WINGS: Women's International News Gathering Service, which provides women's voices and issues coverage to noncommercial radio. The project started with the contact list from a radio women's meeting called by Genevieve Vaughan at the 3rd World Conference on Women in Nairobi in 1985. The pilot was funded and distributed by US National Public Radio, but WINGS found a more receptive audience through the World Association of Community Radio Broadcasters (AMARC). Werden's paper on community radio appears in the anthology Women and the Gift Economy.
More @
wingsradio.org
---
---

María Suárez Toro
Presentation title: The creation of a matriarchal archetype for telling women's stories
As a modern day social media version of shortwave and internet radio Feminist international Radio Endeavor (Fire), Escribana today features women's voices about present day challenges that affirm women's tenacity to share their voices about alternative ways of being in the planet. Quite a gift.
From alternatives ways of raising sustainable economies in Covid emergency (Mano Vuelta in Costa Rica this past year) to media work about the "Transnationals of Faith" in Latin America and Tona Ina as an archetipal Character to tell the unfold stories, Escrivana today is the extension of the gift of voice and choice in today' s world.
María Suárez Toro is a feminist journalist, an activist in defense of human rights, and an educator. She was born in Puerto Rico and has been a resident of San José, Costa Rica for close to 50 years.[1] She was a co-director of the Feminist International Radio Endeavor (FIRE) from 1991 to 2011, of which she is a co-founder. She worked as an educator in literacy in many countries in Central America during the 1970s and 1980s. Since 1998 she has been an Associate Professor of Communication at the University of Denver. Since 2011 she has been a correspondent for Haiti, Puerto Rico, and Costa Rica for the News Service for the Women of Latin America and the Caribbean (Servicio de Noticias de la Mujer de Latinoamérica y el Caribe), and since 2015 has been a coordinator of the Community Center Diving Ambassadors of the South Caribbean Sea (Centro comunitario de buceo Embajadores y Embajadoras del Mar del Caribe Sur), which is dedicated to archeological diving and recovery of the history of the afro-descendant population on the coast of Costa Rica.
---
Salon #08 - March 13, 2021
Miki Kashtan and Manasi Saxena
Miki Kashtan
Presentation title: Living a Gift Economy within an Exchange World
In her talk "Living a Gift Economy within an Exchange World," Miki plans to address a key question about making the gift economy a practical reality. Specifically: when an organization aims to shift into functioning in a gift economy in relation to money, how can it do so when the world around it continues to function based on exchange, and when all of us, including those passionately aiming for the shift, are still immersed within patriarchal, capitalist, scarcity- and exchange-based patterns?
Miki will address these topics looking at to align resource flow with the deepest maternal gifting principles in three areas: how money comes in; how it flows within the organization and sustains those caring for it; and how it leaves the organization to make possible bringing in resources that are only available through engaging with the market economy.
Miki Kashtan is a practical visionary pursuing a world that works for all, based on principles and practices rooted in feminist nonviolence. Miki is a founding member of the Nonviolent Global Liberation (NGL) community, whose purpose is to integrate nonviolence into the fabric of human life through ongoing live experiments with truth focused on individual and collective liberation. One of the most consistent experiments within NGL is the commitment to operate on a full gift basis with both money and other resources. Miki is the author most recently of The Highest Common Denominator: Using Convergent Facilitation to Reach Breakthrough Collaborative Decisions and blogs at The Fearless Heart, often exploring theoretical, practical, political, and spiritual questions related to patriarchy, capitalism, and gifting. In her talk "Living a Gift Economy within an Exchange World" she plans to describe some of the experiments within NGL in three areas: how to align NGL's resource flow with the deepest gifting principles: what comes into NGL; what flows within NGL; and what goes out of NGL.
Find out more @ mikikashtan.org
Download Miki Kashtan - Living a Gift Economy within an Exchange World pdf
---
Manasi Saxena
Presentation title: Experiments in Receiving while Giving
Manasi Saxena (Certified Trainer with the Center for Nonviolent Communication; Founder, enCOMPASSion) is a learning facilitator whose focus lies at the intersection of spiritual/personal growth and social change/community development. She has been part of the Nonviolent Communication (NVC) community in India for over ten years, during which she has organised and offered a number of international and local training events, dabbling to different degrees in Gift Culture.
Having actively participated in emergency relief services after the violence in Northeast Delhi and during the Covid-19 lockdown in India, Manasi's core focus now is to work closely with communities at the grassroots, with a vision of shifting from sustenance-survival to a paradigm of sustainability, collaboration, and resilience through community-driven social change, through her organisation, enCOMPASSion.
A key aspect of her work with enCOMPASSion is balancing two paradigms: the world of socio-economic, legal realities of development work in India, which, even while emerging from a paradigm of giving, exist within a transaction economy; and the world where everyone's needs matter, which in congruent with an economy of mattering, care, and empathy, aligned with the maternal roots of all giving, and where giving is receiving and receiving, giving. She hopes to learn through sharing her "Experiments in Receiving while Giving", experiences in bringing the spirit of Gift Culture to a very transactional reality.
Find out more @ www.enCOMPASSion.com
Download Manasi Saxena - Experiments in Receiving While Giving pdf
---
Salon #07 - February 27, 2021
Erella Shadmi and Peggy Antrobus
Dr. Erella Shadmi
Presentation title: The Corona Pandemic, the Crisis of the Western Culture and the Matricentric Paradigm Shift
We needed a global crash to make people around the globe realize what some activists already were aware of - that a Western civilization is in deep crises and that a comprehensive shift is necessary. Despite the health danger and police brutality, thousands of people around the globe keep protesting to express their mistrust in the existing institutions. As their vast voluntarism, reluctance to social distancing, mistrust in the authorities show, and insistence on protesting show, they also grasp the meaning of the alternative – the gift economy rather than capitalism, communalism rather than individualism, and the grassroots voice and participative democracy rather than the political system and a powerful state.
To prevent the powerful forces and the corporate regime from appropriating these changes for their own interests as they have been doing for generations, it is important to conceptualize them as part of an alternative paradigm, which is outside and beyond white Western culture, patriarchy and capitalism. Such a paradigm begins with motherhood and mothering and is founded on the integration of the maternal gift economy, matriarchal legacy, and indigenous knowledge. It offers new ways to understand humanity, social order and value system and alternative ways of thinking, being and doing.
Dr. Erella Shadmi is an Israeli feminist, peace, lesbian and pro-Mizrachi (Arab-Jews) activist and independent researcher on women and feminism, police and policing. As a sociologist, I see myself as an observer of social processes and a translator of the wisdom of matricentric feminists to the world we live in. As an activist – and I am first and foremost an activist – I am a dreamer: I wish to drastically transform our world through opening the eyes and hearts of women and men to alternative ways of thinking, doing, and living, to show them how ideas may be translated into daily practices. In both my sociological work and activism, I am deeply influenced by what my matricentric and indigenous friends taught me.
---
Peggy Antrobus
Presentation title: Gift Economy in the Caribbean
In 1954, with talk if Independence in the air, I chose to read for a degree in economics in order to contribute to Caribbean development. It didn't take me long to realize, from my first job in the Ministry of Finance in Jamaica, that what I had learned at a British university did not help me understand how Caribbean economies functioned. Feminism completed the disillusionment. Discovering the Matriarchal Gift Economy led me to a path to understanding how Caribbean people survived and thrived despite persistent unemployment rates of over 20% in many Caribbean countries.
My presentation will offer examples drawn from pre-Columbus indigenous communities, through plantation slavery and post-colonial experiences to the present response to the pandemic.
I will end with questions about what kind of policies might acknowledge the value of these manifestations of unconditional caring and solidarity and find ways of supporting rather than continuing to exploit them.
Peggy Antrobus Profile
I identify as a Caribbean feminist activist. Since the mid-1970s I have been involved in programs to advance women's rights, first within the structure of government, later within the academy and now as part of a feminist-led global women's movement.
My most significant and life-changing experience has been being part of the network of feminist researcher-activists from the Economic South advancing development alternatives with women for a new era (DAWN).
My interest in the Gift Economy came from realization of the fact that much of what allows Caribbean people (and economies) to survive and thrive takes place outside the Market, grounded in social relations of reciprocity and solidarity.
Today, in the context of the COVID-19 pandemic in which gifting, and women's caring labor, much of it unwaged or low-waged, is the basis of survival for communities, even whole countries, I am interested in how the value of these practices might finally be recognized/acknowledged and reinforced though policies that support rather than continue to exploit this essential work.
---
Salon #06 - February 13, 2021
Maya Vassallo Di Florio and Margarita Rosa Tirado

Maya Vassallo Di Florio
Presentation title: The Gift of Goddess Temple of Rome
The Temple of the Great Goddess (Tempio della Grande Dea) of Rome it's the first Goddess Temple of Italy after more than 2000 years. Founded by Maya Vassallo Di Florio, is both a sacred place dedicated to Goddess Aphrodite and a research center in the anthropological and archaemythological fields that collaborated with Universities and Academia.
Exactly like a temple of the past, it has a cultural, spiritual, educational and social role for its community in expansion. It is based on Matricentric Values and aims at fully practicing the Gift Economy as theorized by Genevieve Vaughan.
This is a revolutionary community, based on the sacredness of the Cycles of Life and of Biophilia, that as a non profit organization carries on lots of precious projects.
Maya Vassallo Di Florio is the founder of the first modern Goddess temple in Italy. She started the Goddess Temple of Rome, and its community with the intent of creating healthier models of existence, educating participants towards a new social paradigm. She provides courses of study and research based on the matricentric values of care, Gift Economy, peaceful communication, partnership, respect for the planet and love of life in all its forms. She collaborates with La Sapienza University and gives talks and workshops about Goddess Spirituality and Matriarchy throughout Italy and the world. Some projects of international relevance are: "Three Year Training Priestess of the Sea - Priestess of Aphrodite"©, "Re-Activation of :Goddess Ancient Temples and Places", "Roma Goddess Conference"©.
More information @ www.mayavassallo.com | www.tempiodellagrandedea.com | www.goddesstemplerome.com
---

Margarita Rosa Tirado
Presentation title: Sowing Seeds, root, artery, Feminine Memory of Earth...
Conceiving Nature as Female, and spirit as love, I was inspired by life encounters and experience, women's and environmental movements, art, medicine, and social activism. By surrendering, giving all to nature, making a synthesis of home, forest, cohabitation with nature, the spirit of creativity and multiplicity, I created a place to inspire others. I´ll talk about my instinctive mothering economy, that resonated with what the maternal gift economy inspires in me.
Born in 1957 in Karibá (ancestral name of Colombia), Margarita is an integral artist, poet, painter, performer and creator of living art. Educated as a transpersonal psychologist and healer, she is an environmental activist, and a forest gardener. Starting from the very basic seeds to full grown wilderness, today she has been the guardian of a nature preserve (called 'Rose of the winds' or 'Compass rose') for 30 years. More information @ https://fundarosavientos.wixsite.com/reservanatural/caracteristica
---
Warning: This video contains mature subjects.
Salon #05 - January 30, 2021
Genevieve Vaughan and Chiquie Estrada

Genevieve Vaughan
Presentation title: Fundamentals of the Maternal Gift Economy in Early Childhood
The basic human 'operating system' is laid down by the maternal gift economy that motherers have to practice towards young children, who cannot give them an equivalent in return. The unilateral altercentric giving and receiving interaction sculpts the neuron connections after birth and is the foundation of all human relationships. At around age, three children begin to learn an opposite ego oriented 'operating system' based on exchange, quid pro quo, that contradicts and exploits the gift mode and is prevalent in a patriarchal capitalist society.
By recognizing that the maternal gift paradigm still exists as we become adults and is the main source of our positive interactions and interpretations of the world as well as of specifically human capacities like language, we can step back from the economy, the mindset and the behaviors that are presently devastating Mother Earth and all her children.
---
Genevieve Vaughan (b.1939) is an independent researcher who lives part time in Italy and part in Texas. She created the multicultural all-woman activist Foundation for a Compassionate Society (1987-2005) and the Temple of Sekhmet in the Nevada desert (1992 – ongoing) and she co-created the network: International Feminists for a Gift Economy (2001 – ongoing). Her books are For-Giving, a Feminist Criticism of Exchange (1997), Homo Donans (2006) and The Gift in the Heart of Language: the Maternal Source of Meaning (2015). She has edited Il Dono/The Gift (2004), Women and the Gift Economy (2007) and The Maternal Roots of the Gift Economy (2019). A volume of the Canadian Women's Studies Journal dedicated to the maternal gift economy has just appeared (2020).
More information @ www.gift-economy.com.
---

Chiquie Estrada
Presentation title: Maternal Gift Economy in Pre-school Education
In 2002, in agreement with Genevieve Vaughan, I started the first Montessori School, La Casa dei Bambini, in the town of Kyle, Texas. The Montessori method of education is highly recognized worldwide for early childhood education, but often not affordable for the common people. The Montessori approach and the Gift Economy have common principles. They facilitate giving the children experiences based in the maternal gift paradigm, instead of following the patriarchal practices that society has established. In this talk I am going to share with you my experiences in how this approach, at a formative age, can mold the children's minds and hearts, helping them to integrate maternal behavior patterns within themselves. This allows the children to grow to enjoy and participate in a respectful, peaceful and giving environment. When these children grow up, they will tend to understand and practice Gift Economy since they have been exposed to it positively at an early age in the social environment of the school. They will have the knowledge and capacity to change the world.
---
Chiquie Estrada, owner of La Casa dei Bambini in Kyle, Texas.
Supporting children to reach their full potential in a holistic way is my passion; guiding children's self development by linking them to the activities in a prepared classroom and outdoor environment is my calling.
I was born in Guatemala and moved to the USA in 1976 where I began my journey with Montessori as a teacher's assistant in 1977. After training as a guide in 1978 with the Association Montessori International in Atlanta, Georgia, I worked at several Montessori schools in Austin, Texas.
It was there that met my good friend Genevieve Vaughan in 1986 and became acquainted with the Gift Economy. In 2002, because of Genevieve, I was able to open La Casa dei Bambini; which combines the philosophy and practice of Montessori with the Gift Economy.